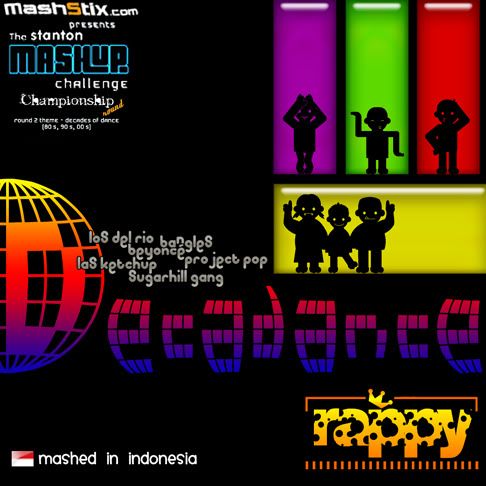 Well it is the final round of the Mashstix/Stanton Challenge (mashup competition). I really would like to thank all who voted this far for all the great mashups. It is that time again to vote for your favorite mashup. I decide to make a fun mashup for the finals hope you enjoy it.
Please Go to
http://www.mashstix.com/Stanton.php
to vote,
I have also made a fun video for you to watch.
http://www.youtube.com/watch?v=_bl8Mgvk3ZQ
So PLEASE come and vote for me right now. Once again everyone has work hard on their mashups so please check them out, but vote for mine, ha ha... and help me win the cool portable DJ system from Stanton. And I hope you enjoy my mashup, Thank You
PS: voting ends on the 22th :-( so let's go :-)
Track info:
This Mashup contains (artist/track title):
The Bangles - Walk Like An Egyptian (Instrumental, Original, Bass Lines, Percussion & Drum Loops) (1986)
Project Pop - Goyang Duyu (Acapella & Percussions) (2008)
Los Del Rio - Macarena (Acapella, Claps, Keys & Percussions) (1995)
Las Ketchup - Aserejé (The Ketchup Song) (Acapella) (2002)
Beyoncé - Single Ladies (Put A Ring On It) (Acapella & Drum Loops) (2008)
The Sugarhill Gang - Rapper's Delight (Acapella) (1979)