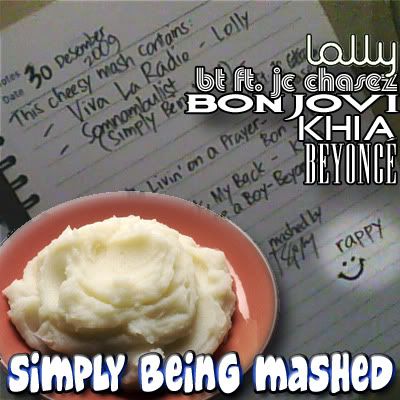 rappy ft Lolly, BT ft JC Chasez, Bon Jovi, Beyoncé & Khia-Simply Being Mashed
One more cheesy mashup from
The King Of Cheese
LOL (hi-five to
Dylan Vasey
and
Mashstix
for the cheesy nick ;))....which should be my final mashup this year.
I was trying to take advice to improve the quality of my mashups by getting rid of repitching too much, so I picked sources with similar chords. Although I still can't help myself from causing some genre clash.
Anyways, it contains
Viva La Radio
by
Lolly
(Original & Instrumental Version),
Somnambulist (Simply Being Loved)
by
BT feat. JC Chasez
(Acapella, drum loops & some effects taken from the remix pack),
If I Were A Boy
by
Beyoncé
(Acapella),
My Neck, My Back
by
Khia
(Acapella)
and last but not least, the overused
Livin' On A Prayer
by
Bon Jovi
(Acapella).
Well, enjoy this mashup and have a wonderful New Year's Eve :)
DOWNLOAD HERE
Sources: