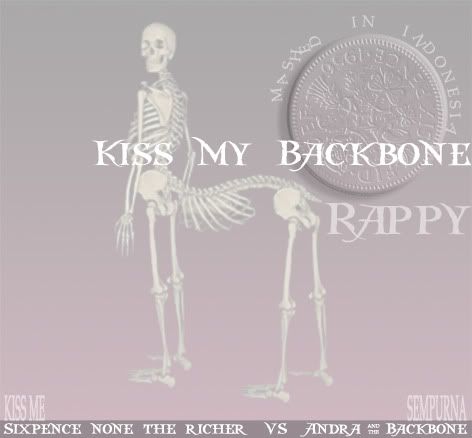 rappy ft. Andra and The Backbone VS Sixpence None The Richer -
Kiss My Backbone
This track contains:
Andra and The Backbone - Sempurna
(rappy DIY string-apella)
Sixpence None The Richer - Kiss Me
(Instrumental)
Mashup done by rappy
..and--Yes, It's in Indonesian.
So please excuse the quality of the DIY acapella (the tune sounds right to me, I can't help releasing this mashup), since as far as I remember, there's no Indonesian musicians ever release the acapella version of a track, neither instrumental added on maxi-single CD to make it easier for us DJs to knockout and extract an OK DIY pella.
Friends suggest me to think twice before releasing this track until I find the better pella, which I know there'll never be.... But I love this combination too much I'm releasing it anyway.
The second and third reasons are ..to encourage other Indonesians bootlegger to create something the world can hear, and also to introduce Indonesian music to the world.
Anyways, the next line is the download buttons.
Download:


Rappy ft Sixpence None The Richer VS Andra & the Backbone-Kiss My Backbone by rappy
Sources?
Did You Care....?
*Andra and The Backbone:
Andra and The BackBone is a rock band from Indonesia and the solo project of Andra Ramadhan, guitarist of the band Dewa 19. Ramadhan also formed part of fellow Dewa band member Ahmad Dhani's Ahmad Band project.
The band released its self-titled debut album in 2007 on EMI Indonesia. The album was also released in Malaysia but with different artwork.
The album's first single, "Musnah", became a big hit in Indonesia, reaching the top of many national radio playlists.[citation needed] The video clip also received heavy rotation on MTV. (source:http://en.wikipedia.org/wiki/Andra_and_The_BackBone)
*Sempurna :
complete, consummate, faultless, flawless, infallible, , strict, thoroughgoing, unmitigated, perfect, complete, perfectly, thoroughness, flawlessly (source:http://www.kamus.net)