A multi-source mashup made by rappy : Project Pop, Hanson, DHT ft Edmée, Eagles, Westlife ft Diana Ross (...Tapi Bohong)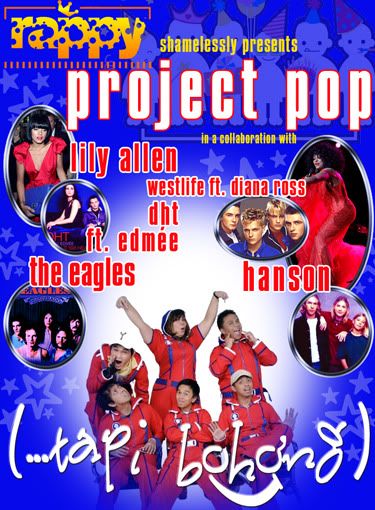 Tracks used:
1.Project Pop-

Bohong


2.Lily Allen-

He Wasn't There


3.Hanson-

I Will Come To You


4.DHT ft Edmée-

Listen To Your Heart


5.The Eagles-

Hotel California


6.Westlife ft Diana Ross-

When You Tell Me That You Love Me



Preview/Download:
Disclaimer:
All mixes linked to on this site are created for entertainment, and as
demonstration of mixing and production techniques only. The copyright
for the individual tracks used remains with the artist. If you like the
mixes I have created, please buy the original songs and support the artists.
If you are a representative of either the artist or the publishing
company and would like the tracks removed, please contact me directly
and I will take the tracks offline.
For more mashups by rappy:
http://www.facebook.com/pages/rappy/124527517839
http://www.fairtilizer.com/users/rappy
http://www.mashstix.com/Rappy.php
http://www.youtube.com/DISCOGrappy
Project Pop Official Website:
http://www.project-pop.com
or Facebook:
http://www.facebook.com/project.pop