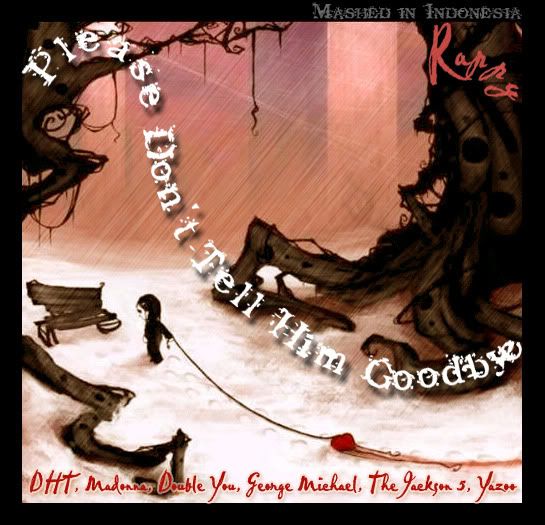 rappy ft. Madonna VS DHT, George Michael, Double You, The Jackson 5 & Yazoo -
Please Don't Tell Him Goodbye
This track contains:
Madonna-Don't Tell Me (Instrumental)
Double You-Please Don't Go (Acapella)
Yazoo-Don't Go (Acapella)
The Jackson 5-Never can Say Goodbye (Acapella)
DHT-Listen To your Heart (Acapella)
George Michael-Careless Whisper (Acapella)
Mashed by rappy
I started with a feeling to mash these two tracks which are

Don't Tell Me

by

Madonna

and Listen To Your Heart, a

Roxette

cover done by

DHT

.
Shame, this very short acapella has left too much of the instrumental which I feel bad to cut off.
Trying hard to find more pellas which don't only match in tune but also make sense lyrically, I almost got myself stuck on

Please Don't Go

by

Brown Boy

, that sounds like Chipmunks after I pitched it up like hell to match the instrumental's key. Meanwhile,

It Wasn't Me

by

Shaggy

tunes better. Except the song sounds like the lovers are breaking up after the guy humped around with their neighbor. D'oh!
Anyways, here's the final result of this mashup with these tracks used as mentioned above. I hate to tell you that this may be the first mashup I've done out from the heart.
So.... for you, brokenhearteds, it's up to you to shamelessly think that I made this mash specially for you. When you no more believe in listening to your heart, just listen to this track instead, you'd feel better.......or worse (LOL) , I guarantee. ;)
Hey I think I told you too many things you don't really want to know, didn't I?
Whatever, you might not notice it anyways, I know you're already at mediafire after clicking these download buttons below. ;)

Download:





Rappy ft Madonna VS DHT, George Michael,etc-Please Don't Tell Him Goodbye by rappy




I thought you knew all the sources! Well...